Click to see what Rachel said about her photo shoot at Contemporary.
What will my photo shoot be like?
In a word, fun! John's easygoing style makes having your picture taken more relaxed and enjoyable than you can imagine. He has photographed over 10,000 seniors during his career—so he knows what it takes to help you feel comfortable and have a great time during your photo shoot.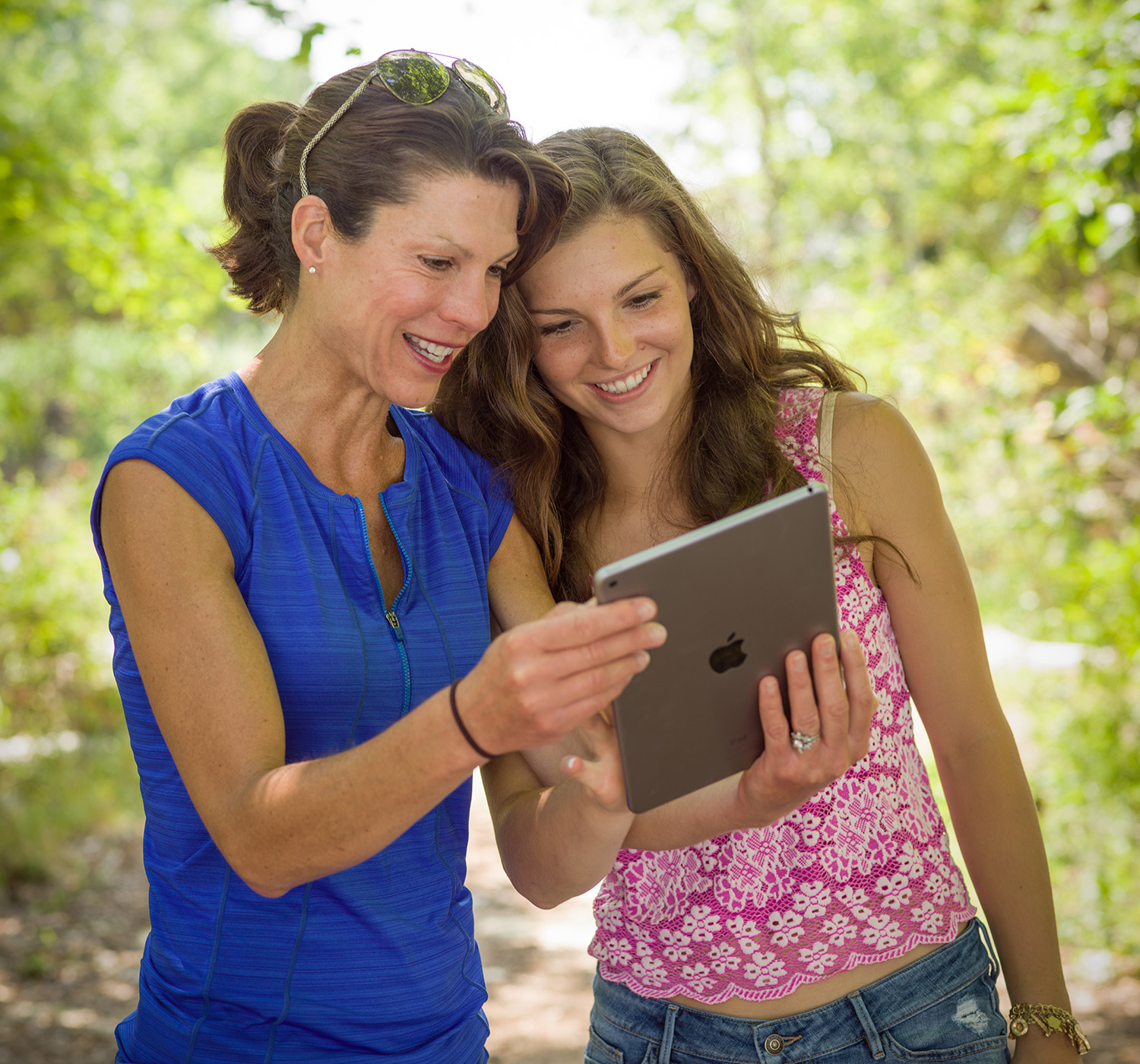 Part of the Contemporary experience you won't find anywhere else is the ability to see your photographs instantly on John's iPad system. This makes it easy to spot any clothing wrinkles, stray hairs, or expression issues there might be and fix them immediately. You'll leave knowing you have the photographs you've always dreamed of!
My skin is breaking out! What can you do?
Nobody has perfect skin, but Contemporary's got you covered. One thing that really separates us from other photographers is the world-class editing skills you'll get on every pose you order. Most studios that use software that basically mushes up your skin. But our retouching is done completely by hand, ensuring you have perfectly naturally textured skin that's completely free of zits, bumps, lines and other imperfections.
Bring your parent with you—they might come in handy!
Can I bring someone to my photo shoot?
Yes! While almost every senior brings at least one parent with them to help during their session, some also bring friends, siblings, even grandparents! Note that because there are only two 'watchers' chairs in the camera room, please limit your visitors to two.
How long does everything take?
Depending on the number and type of photo shoots you choose, it will take between one and four hours for the photography. You will see them in 2–4 business days, and your finished images will be ready in as little as 2–3 weeks.
At Contemporary, more time is spent editing and finishing your images than is spent taking the photographs. In order to achieve this level of quality, our team of expert retouchers and printers does whatever it takes to produce photographic excellence you won't find anywhere else!
You get a sharable electronic file from every portrait you order.
Why would you want to pay for them when you can get them for free! Every portrait you order, from wallets to wall size, comes with a digital file suitable for sharing on any screen at no extra cost. That way all your friends and family can see your portraits on your social media platforms.
Poses you don't order from are not finished or retouched, so of course they are not available.
Since 1974, Mr. Hartman has distinguished his work by offering the very best print images you can get. He understands that digital files do not last, but prints stand the test of time. You have photos of your parents, grandparents, even great-grandparents, because somebody made a print. And your senior portraits made by him will be enjoyed by you and your family for decades to come!
What makes Mr. Hartman's senior portraits so different from other photographers?
In a word, lighting! John's lighting techniques have been continuously refined over decades of experience and tens of thousands of portraits. This mastery of lighting, both in the studio and in outdoor settings, are what sets his work apart.
While many 'natural light' photographers shoot with a camera only, John brings his portable lighting studio with him, assuring you of perfect lighting that flatters you every time!
The before and after images below show how much better your portraits can look with proper lighting.